Our school provides opportunities for students, staff and parents to know and celebrate our Catholic faith. This is done through the religious life of our school. Members of our community experience a rich liturgical and prayer life, celebration of the Sacraments, faith formation, social outreach activities, and opportunities to share faith with each other and with youth from other schools in the Archdiocese.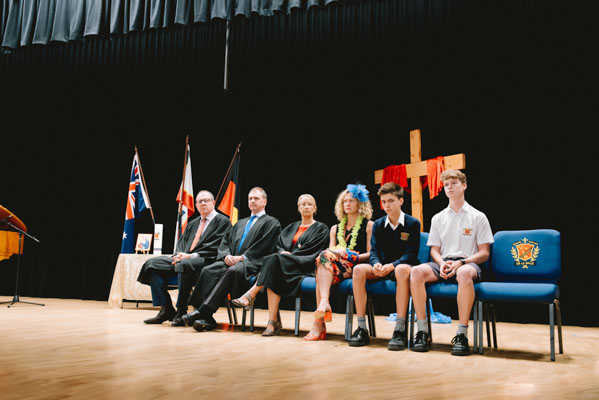 The liturgical and prayer life of De La Salle Catholic College Caringbah is based on the gospel messages of Jesus Christ. Through the guidance of the Holy Spirit, each student and staff member seeks to develop a faith life in the tradition of the Catholic Church and the charism of our founder, St John Baptist de La Salle.
The De La Salle community finds its strength in the sacramental life of the Catholic Church. The Eucharist is celebrated on all holy days of obligation as well as during the seasons of Advent and Lent. We come together to celebrate mass in the beginning of the school year in order to welcome the school community back together and to induct our new school leaders.
As a community, we also recognise key and important dates throughout the year with full school liturgies including: Commencement mass, Ash Wednesday, Easter, the Feast of the Assumption, De La Day and many more key events.
In addition, each year group celebrates a mass together 1-2 times a term. This is a great way for year groups to celebrate mass together on a more intimate level.  Each student attends a reflection day and is offered an opportunity for the Sacrament of Reconciliation and to receive the Eucharist.
Students also have the opportunity to participate in our sacramental program, which is facilitated by the Our Lady of Fatima Parish. This program is designed to support families and students to complete all of their Sacraments of Initiation into the Catholic life.